Prostate cancer is the most common cancer in men. It is known to affect 1 in 6 men over the age of 65 years (1).  Fortunately, the treatment options AND outcomes are improving.  The role of physiotherapy is often overlooked and not considered in the treatment journey. This post aims to raise some awareness on the impacts of cancer and how physiotherapy can play a crucial role in the recovery. Prostatectomy is one of the treatment options your surgeon may advise, which is the removal of the whole prostate (radical prostatectomy). ​
A review of the anatomy, the image below shows the pelvic floor muscles (red) these are a group of muscles and connective tissues which create a supportive sling underneath the bladder and bowel for men. The prostate is located underneath the bladder. The valves that control the bladder are known as the internal and external sphincter as shown. The internal sphincter can be affected with surgery resulting in urinary incontinence.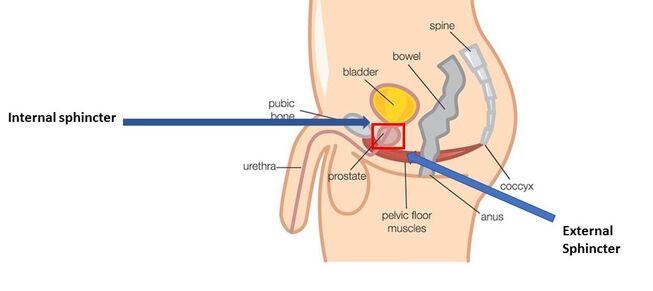 ​The role of pelvic health physiotherapy
Physiotherapy can be beneficial prior to surgery to assist with this common side effect of urinary incontinence. A pelvic rehab specialist works to help you identify and train the pelvic floor muscles which assist with continence. These muscle house the external sphincter(pic) that has a role in bladder function too.  Identifying and training these muscles is important to help with regaining continence earlier after surgery (2). It is recommended to start therapy before surgery in addition to after.
​Pre-operation rehabilitation aims to
Improve better outcomes post surgery
Minimize complications
Address any pre-existing concerns regarding bladder or bowel function
Assist in early recovery of incontinence and/or erectile dysfunction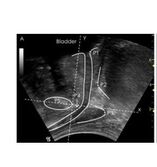 Post rehabilitation will include:
Addressing the other complications that can result
Pelvic floor muscle training
Bladder training
Assist return to activity and exercise
Pain and  cancer-related fatigue management
At Inner Active Pelvic Health Physiotherapy our physiotherapists aim to work closely with you, your surgeon and healthcare team to help reach your goals in achieving optimum recovery and health. Treatment encompasses education, holistic pelvic health and physical health alongside prescription of a graded exercise program to help you to return to doing the things you love.
If you or know of anyone faced with the effects of prostate cancer treatment and are having issues, a pelvic health physiotherapist can help.
Contact us here  or can send an email to info@inneractivephysio.com.au
Telehealth appointments are also know available.
Author
Tafy Seade
BSc Honours Physio, Post Grad Cert Women's Health, Pelvic Floor and Incontinence 
References:
(*images courtesy of the Continence foundation of Australia)
1) Understanding Prostate Cancer, Cancer Council Australia © 2020. Last medical review of source booklet: March 2020.
2)Filocamo MT, Li Marzi V, Del Popolo G, et al. Effectiveness of early pelvic floor rehabilitation treatment for post-prostatectomy incontinence. Eur Urol. 2005;48:734–738. doi:10.1016/j.eururo.2005.06.004