Pain in the postpartum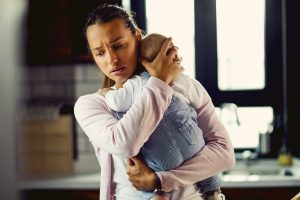 In today's blog, we take a look at some of the common issues of pain that can arise or continually persist following childbirth and delivery. The postpartum period is a busy season of parenting and motherhood and unfortunately, these issues can easily be left unattended and can lead to future problems. Early recognition and management not only helps with the improvement of pain and general wellbeing but can have a role in the prevention of long terms concerns. Here we share a few tips on how to help manage your pain whether you have had a vaginal delivery or a cesarean section. Some common postpartum-related conditions are:
1. Low back pain
2. Pelvic girdle pain
3. Wrist /thumb pain
4. Neck and shoulder pain
5. Perineal pain
6. Pain with sexual function
These commonly arise due to the stress on the joints and spines from repetitive movements, vulnerable muscles such as the pelvic floor and abdominal muscles, and ongoing hormonal changes.
What to do
· Rest – the saying "sleep when the baby sleeps" comes from understanding that the body needs rest for mental and physical health including wellbeing. In addition, placing yourself in a horizontal position puts less stress and pressure to the pelvic floor muscle assisting in their recovery.
· Be aware of your posture – especially during the times when you are upright for long periods, whether sitting or standing. Ensure you are keeping good form, using cushions or support as needed. Avoid lifting anything heavier than your baby.
· Ice. This can bring relief with a vaginal delivery to assist with swelling, pain, and healing. Make sure the ice is not placed directly on the skin.
· Compression – Use of comfortable, firm, and supportive wear can also provide some form of support for the pelvic floor and abdominal region. It is important to find something that you are comfortable in and does not cause further pain. If you are not sure your women's health physiotherapist can assist you in finding the right one suitable for you.
· Exercise with guidance – It is important to avoid any exercises that cause pain or aggravate it. Engaging in gentle exercises, especially the pelvic floor and deep abdominal muscles first is an absolute priority after pregnancy. It is important to reconnect with these muscles and ensure they are working properly to assist with core strength and support.
· Seek HELP
It is important to seek help from your healthcare provider including a women's health physiotherapist if you:
o Continue to experience persistent pain and stiffness that is not resolving
o Experience other symptoms accompanying your joint pain such as pins and needles or numbness
o Day to day activities and chores become difficult because of pain and tightness
o Need advice on specific strategies with regards to your daily activities, childminding, and returning to sports or exercise
We certainly understand the challenges new mothers face and a women's health physiotherapist is well-positioned to give you the most appropriate treatment and advice for your pain alongside an individualized treatment plan and practical strategies that are specific to you and your needs. Most importantly, I want to encourage all new moms to have patience with themselves and their bodies. Seek help early and your body will thank you for it.
Getting help
If you require more help or you are looking for an individualised program, please reach out to a Women's Health Physio.  Tafy Seade is the owner and principal of Inner Active Pelvic Health Physiotherapy, a practice that solely focuses on pelvic health rehabilitation services helping to restore confidence and strength in women after pregnancy and childbirth. She plays an active role as a committee of the Australian Physiotherapy Association's Women's, Men's and Pelvic Health state group. She enjoys combining education, research and practice in advancing the field of pelvic health.
DISCLAIMER This is general information only. For specific advice about your healthcare needs, you should seek advice from your health professional. Inner Active Pelvic Health and Physiotherapy does not accept any responsibility for loss or damage arising from your reliance on this blog, see a qualified professional before instead of seeing a health professional. (Photo mother holding baby Credit:Drazen Zigic)
References
Baddock, S. (2019). Overview of physiological changes during the postnatal period. In S. Pairman, S. Tracy, H. Dahlen & L. Dixon (Eds), Midwifery: Preparation for practice (4th edn, Chapter 27). Elsevier.
Kealy, M.A., Small, R.E., & Liamputtong, P. (2010). Recovery after caesarean birth: A qualitative study of women's accounts in Victoria, Australia. BMC Pregnancy and Childbirth, 10(1), 1. https://doi.org/10.1186/1471-2393-10-47.
Thompson, J.F., Roberts, C.L., Currie, M., & Ellwood, D.A. (2002). Prevalence and persistence of health problems after childbirth: Associations with parity and method of birth. Birth, 29(2), 83-94. https://doi.org/10.1046/j.1523-536X.2002.00167.x.