How to check for an abdominal muscle separation.
In clinic a thorough a assessment can be  carried by one of our physiotherapist that aims to establish the integrity of these muscles and tissues but measuring the width, length,depth, tension and surrounding muscle activity.
However at home you can assess yourself for the width and the tension. ​
How can I measure it at home?
Lie down on your back with knees bent
Place two fingers on your abdomen above the belly button to start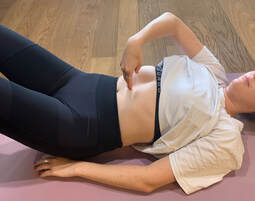 Lift your head & shoulders off the floor in a mini crunch & feel for a gap or dip under your fingers
Restart & repeat this process along the midline of the abdomen to feel the extent of the separation
​A measurement of 2 fingers or more represents a separation & will require further rehabilitation. Although generally not painful abdominal muscle separation can consequently result in poor truck and pelvic floor support due to the weakened abdominal wall.
Usually this separation becomes apparent when women start noticing a bulge or doming in this area when getting out of bed or a chair.
To be continued…….
​Written by Sarah Henderson