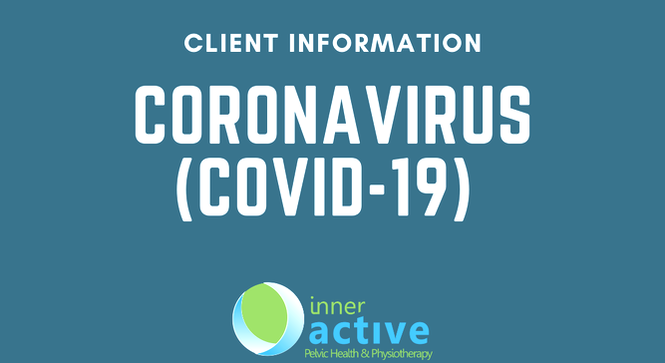 Dear clients,
At Inner Active Pelvic Physiotherapy the health and safety of our clients, our team and the community continue to be our top priority. With the recent announcements and current stage 3, restrictions we want to reassure you as an essential service, we continue to remain open. We are taking additional measures to limit the risk to all and ease your concerns during your visit.
What are we doing?
Screening continues to occur upon making booking with the reception staff. Screening questions are as follows:
1) Have you travelled in the last 14 days?
2) Have been in contact with someone who has tested positive for COVID-19?
3) Have you recently been tested or waiting for test results for COVID-19?
4) Do you have any current symptoms of: fever, running nose, headaches, shortness of breath, cough or fatigue?
You may be asked to reschedule your appointment or consider our telehealth/video consultations.
All team members have their temperature checks and we will also be carrying out temperature checks prior to your treatment.
All treating clinicians and reception staff will be wearing a face masks
There will be face masks available for purchase at the front desk for $1 for you to use if you do not have one.
In addition we continue to have ongoing cleaning, change of linen and all surfaces
Use of hand hygiene and hand sanitiser use in and around the clinic including the front desk
What can you do?
We ask that you follow the guidelines and recommendations set by the Department of Health and self-exclude if you have recently travelled or have been in contact with someone with confirmed or suspected COVID-19. We also ask that you not attend the practice when you are unwell regardless of whether you think this may be COVID-19 or a cold or flu.
On arrival we request the following:
1) You wait in your car and call the clinic to announce your arrival for your appointment. Our friendly receptionist will call you when we are ready for you to enter the clinic.
1)You wash your hands or use of the hand sanitise on entry.
2) Have your temperature check with our non contact thermometer . Clients with a fever will be asked to reschedule their appointment
3) Wear a mask for your treatment consultation and duration of your time in clinic.
4) If you are under the age of 18 years old we ask that one parent/carer accompanies you to the session. Please leave siblings or children at home.
Cancellations
We understand that these are challenging times and things do arise, but we ask that you continue to  respect our cancellation policies. Please do give at least 48 hours notice if you do need to cancel, as we have a lengthy list of people waiting for appointments.
If you do wish to keep your appointment there is an option for a video/phone call session with your clinician, please feel free to contact the practice and we will be more than happy to arrange this for you. Rebates may be applicable.
We will continue to keep you updated if there are any changes or concerns, however if you have any difficulties at all, please do not hesitate to contact us on 03 94708300 (Bundoora Health) or 03 97171200 (Mernda) or email info@inneractivephysio.com.au
We thank you for understanding and commitment to the safety of our community.